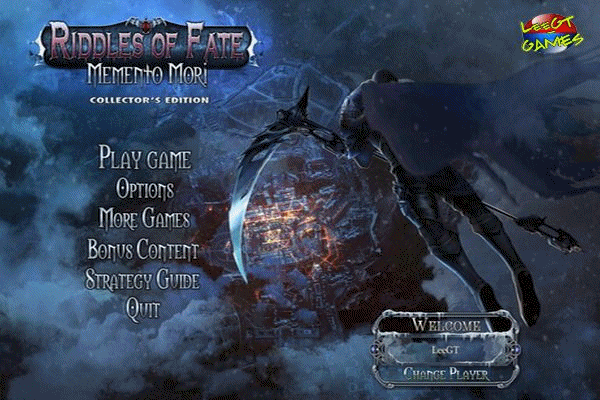 You must have left quite an impression on Death the last time you saw him, because he's come back to seek your help with a very important case. Several dangerous criminals have dared to run from him, and as long as they remain alive… the entire world is in danger! You must hurry to catch them before time itself crumbles. Travel the globe, gather evidence, and unlock the secrets of Death's most powerful tools in this death-defying Hidden Object Puzzle Adventure game!
Go back in time and find out how the eternal struggle began!
Collectibles, morphing objects, and a secret room
Soundtrack, concept art, wallpapers, and more!
A comprehensive Strategy Guide
Você deve ter deixado uma forte impressão sobre a morte da última vez que o vi, porque ele voltou para buscar sua ajuda com um caso muito importante. Vários criminosos perigosos ousaram fugir dele, e enquanto eles permanecem vivos ... o mundo inteiro está em perigo! Você deve se apressar para pegá-los antes que o próprio tempo se desintegra. Viajar o mundo, recolher provas e desvendar os segredos da mais poderosas ferramentas de morte neste jogo de objetos escondidos Puzzle Adventure desafiando a morte!
Volte no tempo e descobrir como a eterna luta começou!
Collectibles, objetos mudam de cor e uma sala secreta
Soundtrack, concept art, wallpapers, e muito mais!
Um guia abrangente Estratégia
Idioma/Language : Inglês/English
créditos / credits
leegt